Mono Lake @ 20: Past, Present, & Future
A UC Berkeley law symposium
To mark the 20th anniversary of Decision 1631, the UC Berkeley Center for Law, Energy & the Environment organized a one-day symposium on the theme of the public trust doctrine on November 17, 2014.
The landmark D1631 was issued by the California State Water Resources Control Board to amend the Los Angeles Department of Water & Power's water rights in order to protect Mono Lake and its tributary streams. It has been shaping California water law ever since.
Scientists, lawyers, justices, policy-makers, agency staff, and students all convened at the CalEPA headquarters in Sacramento for a day of looking intensely at D1631 and the Mono Basin. The day included discussions about where things stand after 20 years, and how we go forward from here.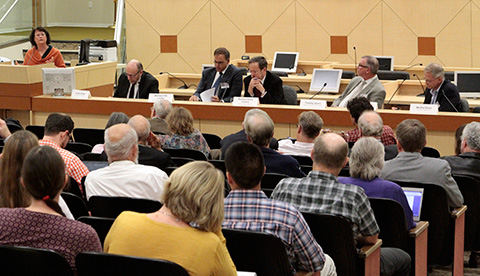 Here are the symposium videos from the California State Water Resources Control Board website:
Part 1:
• Symposium introduction, welcome, and opening remarks
-- Michael Kiparsky, Dean Keith Gilless, Felicia Marcus
• Session 1: Retrospective on Mono Lake Cases and their Meaning
-- Michael Hanaman, Hap Dunning, Marc Del Piero, David Cobb
_____________
Part 2:
• Session 1: Retrospective on Mono Lake Cases and their Meaning, continued
-- Michael Hanaman, Hap Dunning, Marc Del Piero, David Cobb
• Remarks by Justice Cole Blease
_____________
Part 3:
• Session 2: Outlook for Mono Lake and its Creeks
-- Mary Scoonover, Geoff McQuilkin, Marty Adams, Peter Vorster, Mark Drew
_____________
Part 4:
• Session 2: Outlook for Mono Lake and its Creeks, continued
-- Mary Scoonover, Geoff McQuilkin, Marty Adams, Peter Vorster, Mark Drew
• A Tribute to Joe Sax
-- Tony Rossman
_____________
Part 5:
• Session 4: The Future: Applying the Public Trust to the rest of California
-- Lester Snow, Mike Lauffer, Richard Roos-Collins, Tim Quinn, Matt Kondolf, Martha Davis
_____________
Part 6:
• Session 4: The Future: Applying the Public Trust to the rest of California, continued
-- Lester Snow, Mike Lauffer, Richard Roos-Collins, Tim Quinn, Matt Kondolf, Martha Davis
• Closing remarks
-- Dee Dee D'Adamo, Justice Ronald Robie
_____________
More: